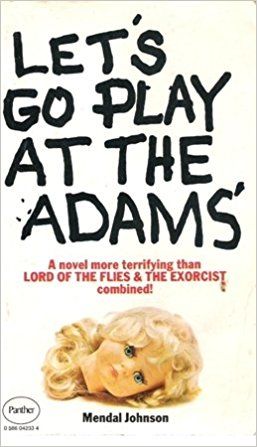 I'm reading a good book at the moment: 'Paperbacks From Hell' by Grady Hendrix, a lavishly illustrated history / guide to the horror fiction of the 1970s and 1980s. My must-read list is mutating and growing like radiation-afflicted crabs, while the shots of lurid, dog-eared covers are acting like a Proustian time machine to my childhood. It is, as they say, all good. Apart from in one crucial respect.
I used to own lot of the books pictured and, reading about them now, I'd love to revisit them. But I can't, because there was a particular house move in 1996 where I boxed up tons of novels and took them to the paperback-book recycling bin at Sainsbury's car park in Market Harborough. It must have been a significant visit because I can still remember the time of day, dusk, and how I felt at the time, which was not all regretful or reluctant, just excited, because I had a great new girlfriend, a new job in thatthere London, and I was in virtually every respect of my life starting again.
That was 21 years ago. We married, had children and moved back into the area. And as a more settled, sensible and grounded adult I've found myself reconnecting with bits of my past. Not in a planned and considered way, you understand. It's just happened by accident. Reading 'Paperbacks From Hell' being an just one example.
I'm digressing. The point is that every second page of the book I'm groaning at the sight of a once-treasured paperback book that ended up in Sainsbury's car park at dusk 21 years ago: the bizarroworld mutation of Frank Spiering's 'Berserker'; the terrifying severed head of 'that particular edition' of James Herbert's 'The Fog'; John Halkin's nightmare-inducing 'Slither'; even the familiar sight of Peter Benchley's 'Jaws'. (Digression number two: the original hardback illustration for 'Jaws' looked as though a floating woman was being menaced by a giant index finger and was not at all terrifying; for the iconic image we now know, painter Roger Kastel added water, jagged teeth, the hint of more nudity and a terrible sense of dread. The image the proved so effective that Universal simply reproduced it for the movie poster.)
Worst of all, though, is seeing the cover for the novel 'Let's Go Play At The Adams" by Mendel W Johnson. This was a book that I'd virtually forgotten about, even though I now realise it had a profound effect on me as a reader and fledgling writer. It's a genuinely shocking story about a group of kids who tie up and torture their babysitter, and it says something terrible and true about human behaviour. It no doubt also influenced Jack Ketchum's 'The Girl Next Door' which is by some distance the most horrifying work of fiction I've ever read.
All this came to me in a zap when I clapped eyes on the cover for the first time in two decades this weekend, and I immediately decided to revisit 'Let's Go Play At The Adams", (being weird like that), cursing myself afresh for that Sainsbury's visit. Oh well, I thought. I can get it second-hand from Amazon, eBay etc.
Only, I can't. Correction, I could if I were willing to spend upwards of £200 for a paperback copy. Which I'm not.
That's my long-winded tale of woe. Getting rid off all those grungy old books, but especially 'Let's Go Play At The Adams", which is now worth a small fortune. Please make mer feel better by sharing your 'what was I thinking' moments here.